How Nigeria's Youverify Aims To Combat Fraud With IAM Technology
Gbenga Odegbami's journey to create an identity and access management (IAM) system to help stop rampant fraud in Nigeria started when his mother fell victim to a scam and lost money in her bank account.
A fraudster claiming to be an official from her bank had called her, eliciting enough information to use it to access her bank account. The incident compelled  Odegbami four years ago to launch Youverify, a venture aimed at streamlining how banks and other companies verify the identity of their customers and do due diligence to meet know-you-customer (KYC) regulations.
"We help businesses automate compliance," Odegbami says. Youverify correlates data from various sources to help companies identify customers they serve. "We integrate with many different data sources, making it almost impossible to impersonate an individual."
When it comes to online impersonation and fraud, Nigeria ranks high on the list globally. Nigerian fraudsters have perfected the art of syphoning millions of dollars from unsuspecting victims on false pretences via what's known as 419 frauds.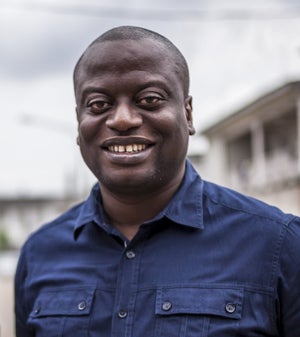 Many countries including the US have had their citizens fall victim to online scams emanating from the country. It is not surprising that this is also a problem within the country itself.
"When my mom lost her money, we approached the bank; they did everything but they could not stop money being pulled out from her account," he says.  At this point, Odegbami realized that corporate systems lacked the infrastructure to accurately identify customers. The idea of building a robust IAM platform sprouted, and the resulting system now is being embraced by big banks and corporations in Nigeria.
Africa faces ID management challenges

 Most organisations in Africa still heavily rely on manual processes to identify customers and when digital tools are used, they are often not robust enough to quickly and efficiently do a KYC (know your customer) check. Most times,  the relevant data resides in silos in different departments.
In addition, many people do not have official identification documents. A report by Cyrilla, Analysing the impact of Digital ID frameworks on Marginalised Groups in Sub-Saharan Africa, states that: "An estimated 1.1 Billion people, around 15% of the world's population, do not have any form of legal identification or proof of their legal identity. Currently, 81% of the 'invisible Billion' resides in Africa and Asia; with approximately half living in Sub-Saharan Africa."
"How do they (banks) verify 10 million addresses in an efficient manner?" Odegbami asks. Only 30% of Nigeria's population have an officially documented address, he adds, citing it as a major problem across Africa. "The rules say that they (banks) need to know where their customers live," he says.  "Every bank wants to balance security and convenience, but they sometimes sacrifice security to have convenience."
And this issue does not only affect the private financial sector but the government as well, Gbenga says. Having an effective tax programme, he notes, depends to a great degree on the data that is available on residents. This means that businesses and governments might be losing revenue by not having up-to-date identity information.
Regarding social engineering, Odegbami says that you cannot stop people from innocently giving out their details, but there has to be a deterrent within the banking system to avoid fraud.
IAM correlates data from multiple databases
Youverify's biggest partnerships are with the government, telecommunication companies and banks. Its IAM system integrates data from partner databases via APIs. Government databases host addresses, for example, while the telecom data can help verify phone numbers.
Youverify's system can be used to verify information provided by end-users by matching and cross-checking the data they present with information in the authorized databases of its partners and customer organizations. It's typically used for onboarding customers or as part of an automated business due diligence process.
End users can present various types of identification and data — selfie images, government IDs or phone numbers — to the Youverify system, on a mobile phone or computer.
An advantage for end users is that the system cuts down on information they need to provide. As it confirms the authenticity of the information provided by the end user, the system can also automatically call up information needed complete onboarding documents.  "Instead of filling three onboarding form pages, they can fill half a page," Odegbami says. "Youverify uses the half-page information to populate the other fields, thereby improving the customer experience."
For example, if end-users consent to having their credit history checked, Youverify can retrieve the data from partner databases to determine their address history without asking the customer how long they have lived at an address. The customer can also permit Youverify to access their bank statements for a loan application process.
How different companies use ID management
Youverify lets partners and customer companies connect to its system through their web portal and also through its simple API. In addition to banks, Youverify has seen its system used by different types of companies. Bolt, the ride-hailing company, has used Youverify to quickly conduct driver due diligence and achieve rapid expansion in multiple cities in Nigeria. "They use us to conduct due diligence on their drivers to ensure that they are who they claim they are and ensure they have the appropriate documentation to drive," Odegbami says.
Drivers take selfies, which Youverify then matches with images in its partner databases via image-based AI, Odegbami says.
The Lagos State Lottery Board also used Youverify to help agents working in the gaming industry to combat fraud, such as impersonation, and underage gambling. Lagos State has used Youverify to automate service delivery for citizens
Youverify is aiming to go beyond B2B customer identity verification and plans to launch a mobile based personal identification product for individuals. The product, named YouID, will be based on a blockchain platform and designed to reduce the amount of information users need to present manually when signing up for any service.
"Our digital identity, YouID, enables individuals to securely store their different identity credentials digitally and locally on their device in an encrypted manner only accessible by them," Odegbami said.
Odegbami said that his platform is compliant with EU's GDPR and NITDA's NDPR in Nigeria.
"For our digital identity service, all data is encrypted so even Youverify can't decrypt the data," Odegbami says.
National ID plans run into problems
Several African countries including Nigeria are embarking on digital identity drives to ensure every citizen is registered under one database. Ideally some of these efforts, such as Kenya's National Integrated Identity Management System (NIIMS), aim to not only have a single national register but also make it easier to dispense government services.
A single national database storing identity data of all citizens would also simplify KYC systems for enterprises, but governments have stumbled in their attempts to establish such databases.
The Kenyan project has waded into murky privacy waters and several court cases have been launched to challenge its implementation.
"The government of Kenya's recent attempt to provide guidelines for Kenya's digital identity system under the National Integrated Identity Management System (NIIMS) is inadequate and threatens to affect the rights to free expression, access to information, privacy and data protection," Article19, a digital advocacy group wrote in early 2020.
At the time, Kenya had not put in place a data protection law. But even though Kenya's data protection law has been issued since then, its implementation is far from being achieved.
Government guidance on ID policy needed
Meanwhile, undocumented people in Kenya risk being locked out of government services since they are not eligible to register under the NIIMS program.
The same fate seems to have fallen on the Nigerian government's Digital ID project.  As documented by the Cyrilla report, many people in Nigeria risk being locked out due to lack of supporting documents.
Given the privacy, security and inclusion issues related to identity management, Odegbami says there is a need for greater clarity around data policy and governance. A private company like Youverify needs to operate within the laws that govern every region.
Meanwhile, Odegbami sees technology as an enabler of identity management systems that can optimize business processes for enterprises, while easing the process of securing documentation for end users. It will take time before African nations fully adopt digital identity systems, but some are already seeing their benefits.